MP SERIES – MOTIVE POWER
Motive Power MP series lithium batteries for forklifts and pallet trucks
Lithium batteries for traction use made with lithium iron phosphate LiFePO4 cells. Specifically developed for forklift and pallet truck applications, both original equipment and retrofit.

inside extremely compact carpentry enclosures and compatible with the main DIN formats of lead traction batteries currently in use.

They are lithium traction batteries with Motive Power functions mainly oriented to the following applications:
• Forklifts
• Stackers
• Pallet truck
• Trilateral trolleys
• GSE tractors and support vehicles

Thanks to the technology developed by Aliant Battery, the MP battery series allows to have:
• Maximum capacity in minimum space
• Useful life between 5 and 10 times longer than traditional batteries
• Management electronics integrated in the proprietary Pegasus BMS battery module, MADE IN ITALY
• CAN Bus 2.0a / CANOpen CiA301 communication interface
• Degree of protection IP55
• REAL TIME Adjustable Charge Curve – with pre-configured compatible charger

All within carpentry compatible with the main formats of lead batteries currently used inside forklifts and pallet trucks.
Modular design
Aliant MP Series batteries are developed with a wide range of capacities and voltages in order to respond to customer needs in a timely manner.
High power
Massima potenza nel minimo ingombro, grazie alle celle Alichem con tecnologia Litio Ferro Fosfato ad alta densità.
Fast charging
Ultra-fast full recharge: 80% of the charge in less than 30 min.
No problem with opportunity charges. Recharge the batteries with maximum flexibility!
BMS Pegasus
Thanks to the proprietary technology of the BMS Pegasus it is possible to develop the traction batteries according to the Taylor Made program, to correspond to all specifications.
Durability
Battery life is tested in the R&D laboratory where materials and prototypes are tested to constantly improve performance.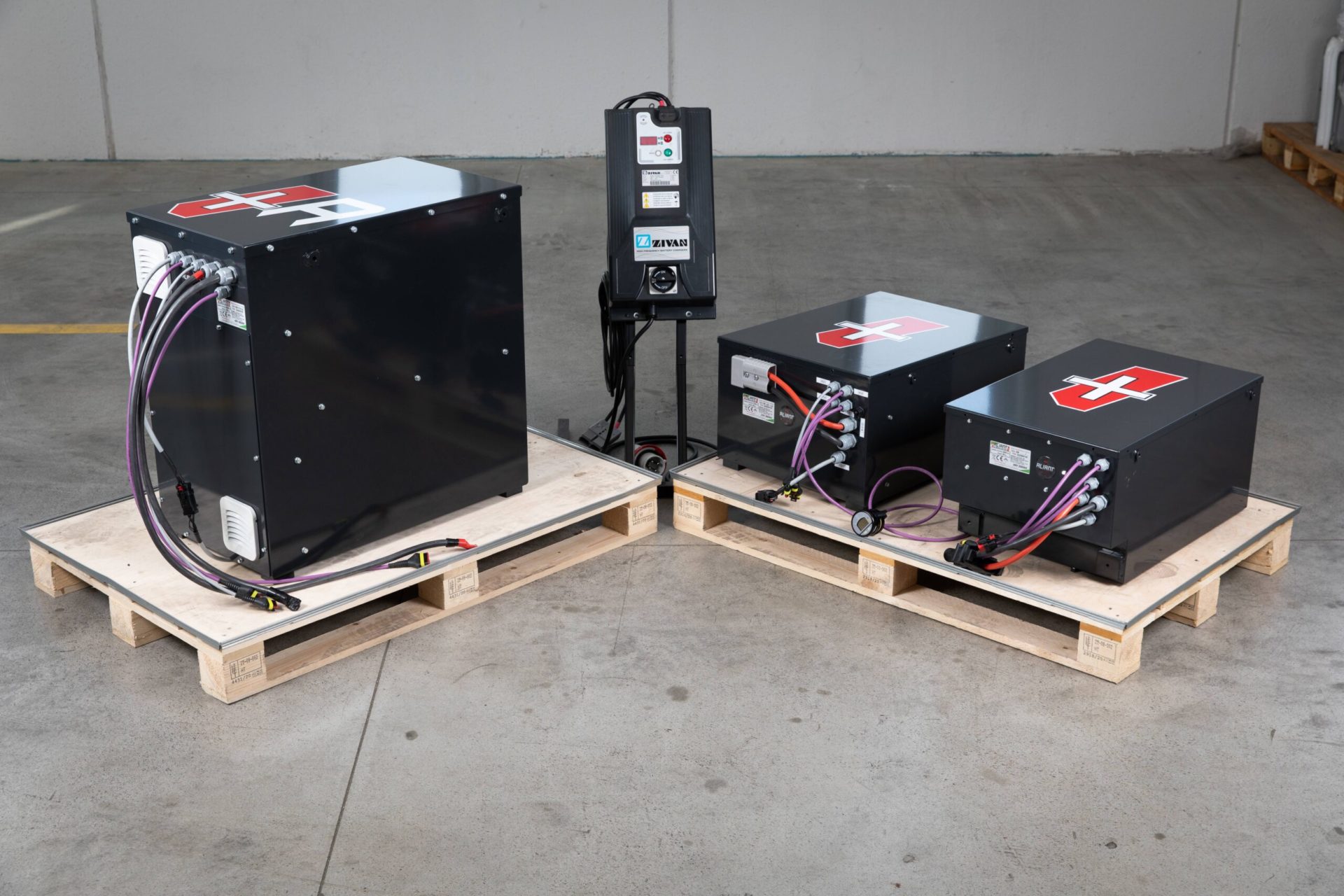 Battery chargers
Thanks to the proprietary Pegasus BMS integrated inside, Aliant batteries are available with a wide range of single-phase, three-phase and boost chargers controlled via CANBUS protocol
WEIGHT AND DIMENSIONS
Reference performance
Weight reduction -50% *
Volume reduction -30% *
Standard DIN design
Euro DIN connections
*average values indicated compared to traditional lead-acid batteries with similar AH
CHARGING TIMES
Always ready in few minutes
80% charged in 30 min**
Compatible with numerous industrial battery chargers of major brands
Single-phase, three-phase and boost charger
** charging times can vary based on application, battery chargers and available AC power input
DURABILITY
Strong and durable
Up to 10 years of useful life
Up to 5000 complete cycles
Opportunity Charge allowed
Very low self-discharge
ASSEMBLY
Easy and universal
DIN compatible carpentry
Easy assembly
Low temperature heating system
Degree of protection IP54
Main applications
Here some of the main apllications of MP batteries
FORKLIFTS
Upgrade your forklift batteries by switching to lithium, infinite life!
PALLET TRUCK
Unlimited charging speed and partial rechargin thanks to lithium
INTRALOGISTICS
Lithium allows a great flexibility of use together with the possibility to perform 5 minute recharges!
DATASHEET
Download the product data sheet with all the models currently in production
MSDS
Download the Material Safety Data Sheet