EK SERIES TRACTION BATTERIES
Tailor Made EK series customizable lithium traction batteries
Customized lithium ultralight traction batteries reserved for OEM customers based on LIFEPO4 safe lithium phosphate technology. The development of the product is able to ensure an unrivaled duration to all other types of lead battery on the market (the estimated duration may vary depending on the type of cell used from> 2500 cycles @ 80% Dod up to> 5000 cycles @ 80% Dod ). Developed for applications that require high energy densities and integration with the customer's machine design, the complete traction system is made using a simple and robust architecture.
Aliant EK batteries are configured according to the specific requests of the customer. The great flexibility allows our customers to create infinite applications!
Ultra-light batteries based on safe lithium phosphate technology.
Made on order for OEM customers, manufacturers of industrial, agricultural and electric vehicle machinery.
The Pegasus BMS control and balancing electronic board is our distinctive feature.
Modular design
Aliant EK Series batteries are developed with a modular architecture in order to respond to customer needs in a timely manner.
High power
Maximum power in the smallest footprint, thanks to Alichem cells with high density Lithium Iron Phosphate technology.
Fast charging
Ultra-fast full recharge: 80% of the charge in less than 30 min
Immediate partial recharge: 20% of the charge in less than 5 min
BMS Pegasus
Thanks to the proprietary technology of the BMS Pegasus it is possible to develop the traction batteries according to the Taylor Made program, to correspond to all specifications.
Durability
Battery life is tested in the R&D laboratory where materials and prototypes are tested to constantly improve performance.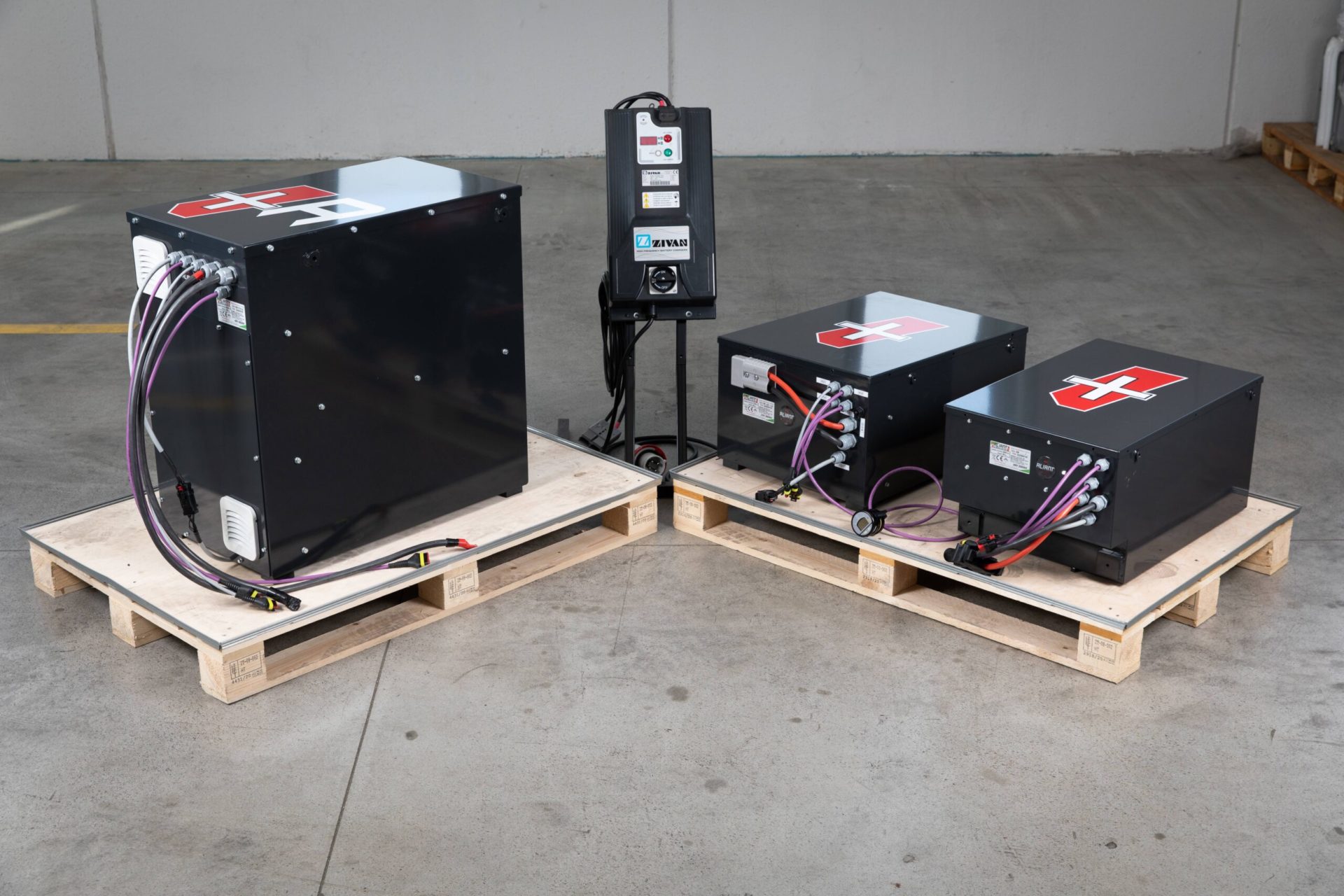 Battery chargers
Thanks to the proprietary Pegasus BMS integrated inside, Aliant batteries are available with a wide range of single-phase, three-phase and boost chargers.
WEIGHT AND DIMENSIONS
Reference performance
Weight reduction -50% *
Volume reduction -30% *
Compact design
Quick-fit connections
*average values indicated compared to traditional lead-acid batteries with similar AH
CHARGING TIMES
Always ready in few minutes
80% charged in 30 min**
20% charged in 5 min**
Compatible for public column charging
Single-phase, three-phase and boost charger
** Charging times and recommended chargers vary according to the application
DURABILITY
Strong and durable
Up to 10 years of useful life
Up to 5000 complete cycles
Opportunity Charges allowed
*average values indicated compared to traditional lead-acid batteries with similar AH
ASSEMBLY
Easy and universal
IP21 / IP54 / IP67***
Any orientation / position
Any shape
*** different Index of Protection can be made according to project / customer specifications
Main applications
Here some of the main apllications of EK batteries
AERIAL PLATFORMS
Now you can use your platform in any required environment, both outdoors and indoors, working with zero emissions
LIFT
In addition to having no emissions, the electric lifting machines are extremely quiet and thanks to the lithium batteries they can withstand an entire daily work cycle
ELECTRIC VEHICLES
Worried about having to recharge your vehicle? Don't worry, whatever your power supply is, our lithium batteries will be ready to use in a few hours
⠀⠀
AGRICULTURE
The world of agriculture can also benefit from electrification. The environmental impact will be eliminated and the products will be protected from emissions
⠀⠀
DATASHEET
Download the product data sheet with all the models currently in production
MSDS
Download the Material Safety Data Sheet
COMPATIBLE CHARGERS
Go to the list of compatible chargers and maintainers
ENVIRONMENTAL MANAGEMENT
DISPOSAL
Read the guidelines on environmental management.
LITHIUM-LEAD CORRESPONDENCE
Find the correspondence between lithium battery and lead acid battery.